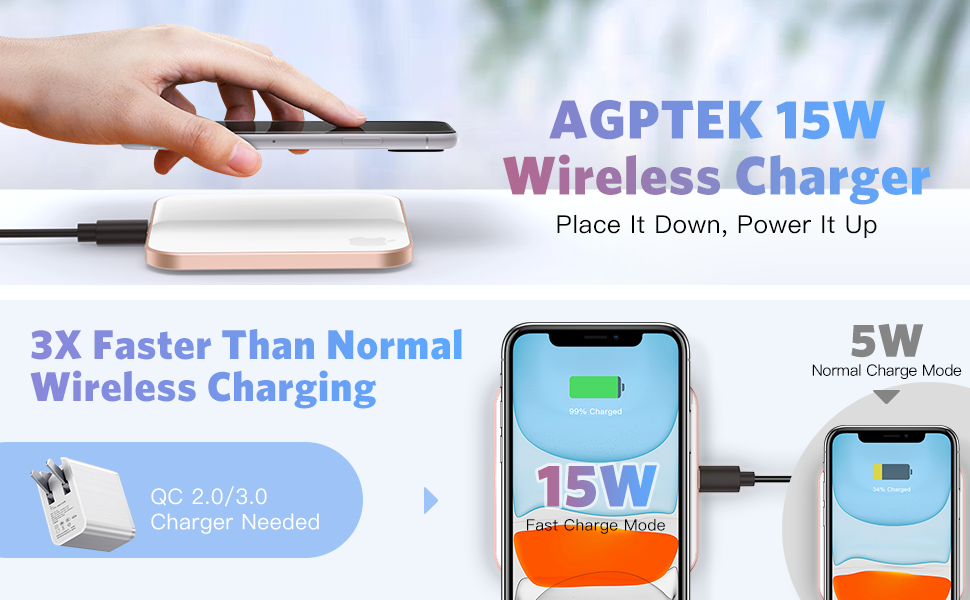 Still bothered by messy cables on desk?
Still worried about plugging and unplugging the cable several times a day, causing damage to the charging port of mobile phone?
Still spending plenty of time on looking for the right wireless charger for your phone which supports fast wireless charge?
Simplify your charging with this AGPTEK Wireless Charging Pad. No need to plug in when it's time to power up. Place Down, Power Up. Charge Fast, Pleasure More!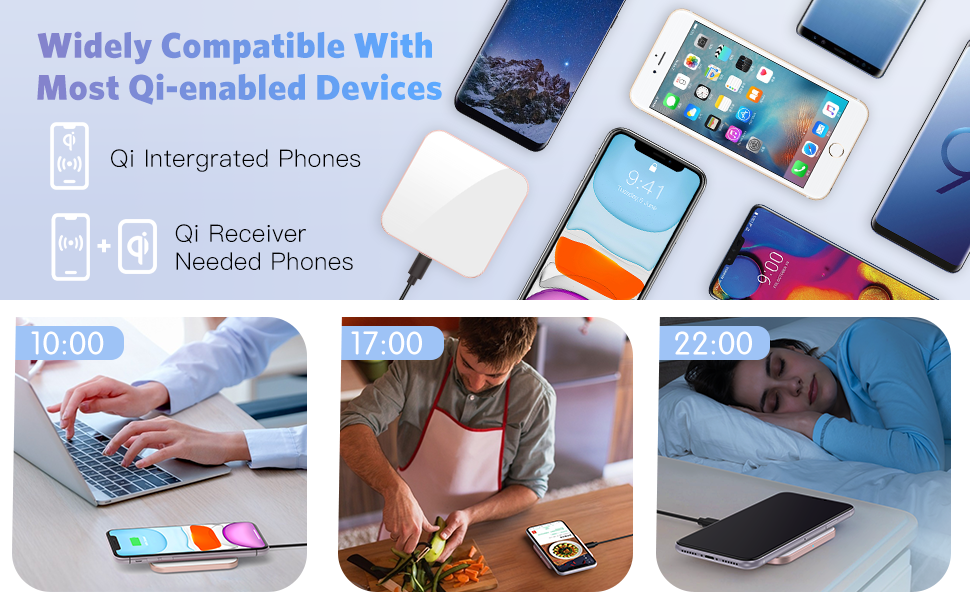 Compatible Devices
15W Fast Charge Mode: Using QC2.0/QC3.0 Adapter
LG V50 ThinQ/V50/V40 ThinQ/V35/V30+/V30/G8 ThinQ/G8/G7 ThinQ/G7; Huawei Mate RS/ 20 Pro/ Mate 20 RS/ P30 Pro; iPhone 12/ 12 Pro/ 12 Pro Max; And more;
11W Fast Charge Mode: Using QC2.0/QC3.0 Adapter
Google Pixel 4/4XL
10W Fast Charge Mode: Using QC2.0/QC3.0 Adapter
Samsung Galaxy S20/S20+/S10/S10+/S10E/S9+/S9/S8 /S8+/S7 edge/S7/S6 edge+; Samsung Note 10/Note 10+/Note 9/Note 8/Note 7/Note 5 and more; Google Pixel 3/3XL; HP ELITE X3; Xiaomi MIX 3; And more;
7.5W Fast Charge Mode: Using QC2.0/QC3.0 Adapter
iPhone SE 2020/ 11 Pro Max/ 11 Pro/ 11/ XR /XS /Max XS /X /8/ 8 Plus; SONY Xperia Z3v(D6708)/ Z4V/ XZ2/ XZ2 Premium/ XZ3; Xiaomi MIX 2S; And more;
5W Standard Charge Mode: Using 5V, 2A Adapter
AirPods 2/AirPods Pro/Galaxy Buds/Galaxy Buds+ and all other Qi-enabled phones and devices; Google nexus 6/5/4; HTC PH98100/ PG32100/ PJS3100/ PL83200 PM23100; Microsoft Lumia 950/ 950XL; MOTOROLA Droid Turbo/Turbo2/5/Mini, Moto Maxx, Ultra M, Moto X Force; Philips X723, And more;
Note: For those phones which have no built-in Qi receiver, an external Qi receiver is requested (not included).

Ultimate 15W Fast Charging
This wireless charger is compatible with fast charging up to 15W, providing you the ultimate fast charging ever. You only need to ensure that you have a Qi-enabled device supporting 15W fast charge and a QC2.0/3.0 adapter.
Kindly Note:
1. QC 2.0/3.0 wall adapter is required for Fast Charge Mode.
2. Temperature will affect the charging speed. The higher the temperature, the slower the charging speed.
3. Although this product is compatible with most phone cases, it is recommended to remove the phone case to charge for increasing charging efficiency.
4. Before purchase, you must make sure that your mobile phone supports wireless charging function.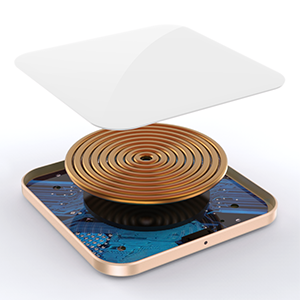 Powerful Coil, Faster Charging
Designed with powerful charging coil, it could identify your smartphones sensitively and charge your device much fast.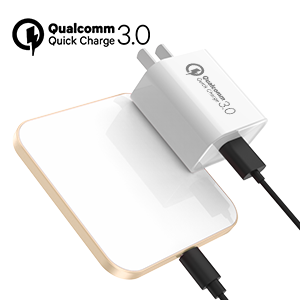 Quick Charge Recommended
To take advantage of fast charge mode, using a Quick Charge 2.0 or 3.0 wall charger is required. Adapter is NOT included.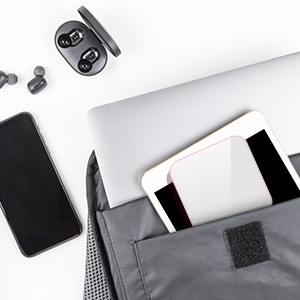 Through-Case Charging
Don't worry about taking your case off whenever you have to charge. This charger delivers charging power directly through cases up to 8 mm thick. Please note that cases made of metal, external attachments such as magnets, credit cards, grips, and stands will interfere with charging.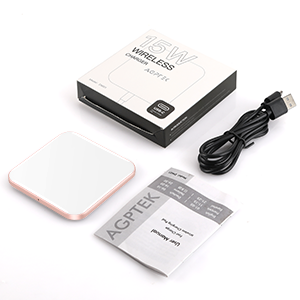 Slim and Portable
Light in weight (55g), thin in thickness (6mm). The compact design minimizes spacial impact on your desk or bag. Suitable for both home and office, and easy to take it with you when go out or traveling.