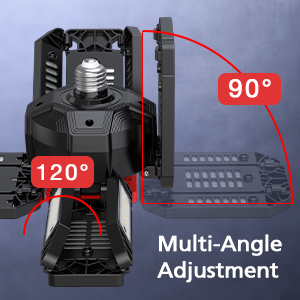 2021 Newest Exclusive Panels Design
4 LED panels can be folded? NOT ONLY THAT! There are 2 small panels on both sides of each panel. 4 large panels can be folded 90 degrees, and 8 small panels beside them can be folded 120 degrees. The unique design of 12 panels makes the lighting range reach 360 degrees without dead angle!
Kindly Note:
● Do not use it outdoor, it is not waterproof.
● Do not directly touch the light when it is working. When it works for a period of time, its temperature will rise. But this is normal and it can be cooled by turning it off.
● Do not stare at the light for a long time. The strong light will cause damage to the eyes.