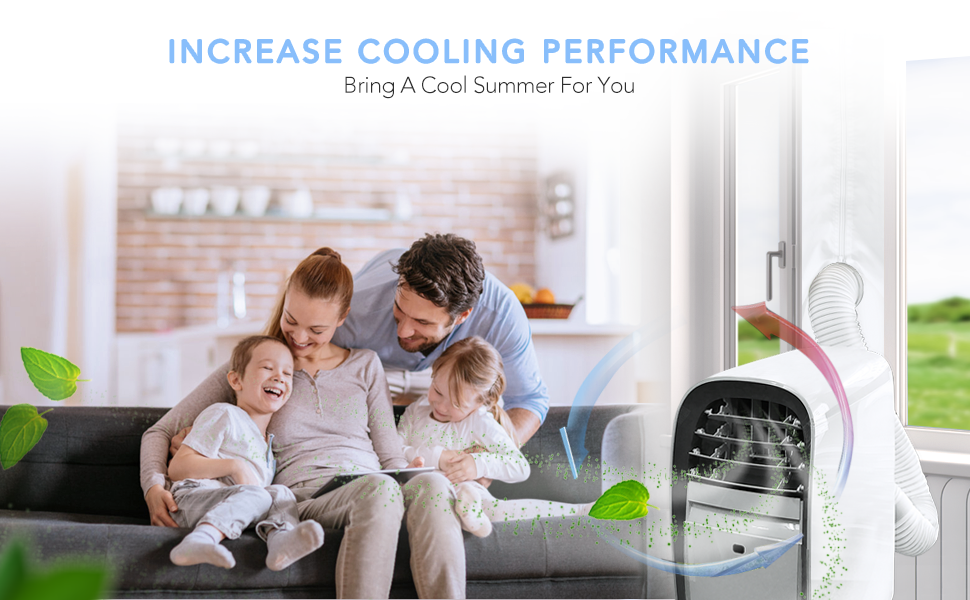 Keep Cooler, Energy Saving, Save Money And Protect The Planet!
AGPTEK 300cm Window Seal for Portable Air Conditioner, prevents hot air from coming back into your room.
Cool rooms quicker and more efficiently.
A great solution that reduces energy consumption and saves you heaps on your bills!
Enjoy a cooler environment in summer!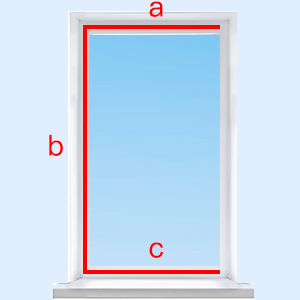 1. How to select a right size of window?
Calculate the total length of 3 sides of your window frame. That is: a+b+c = Needed length of window seal (≤300cm). Fit window with a maximum total length (of 3 sides of your window frame) of 300 CM.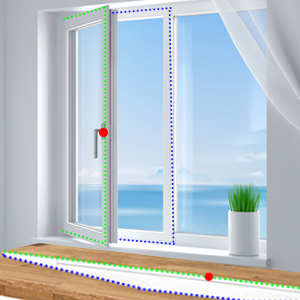 2. Stick The Adhesive Hook Tape
(1). Clean the window casement and window frame
(2). Stick the hook tape on the window casement (Green in picture), and then stick it on the window frame (Blue in picture).
• Identify the right sides of the window seal
(1) Curved part is Blue. Straight part is Green
(2) Red dots respectively indicate the middle of the window seal and the middle of the window casement.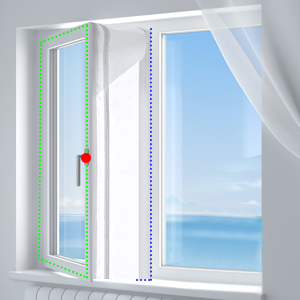 3. Attach the window seal to the hook tape
(1) Start from aligning the middle of window seal with the middle of window casement (Red Dots).
(2) Attach curved part (Blue) to the window frame.
(3) Attach straight part (Green) to the window casement.
(4) Leave extra part at the corner. Close the window to make sure that the window seal isn't clamped.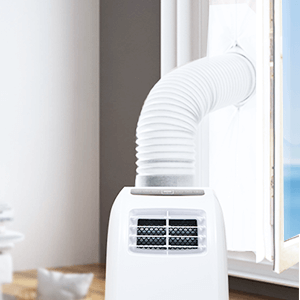 4. Insert the hose
(1) Open the zippers on the window seal. Insert the hose.
(2) Close the zippers tightly around the hose. Anti-skid zippers, no need to use cable tie to bind.
(3) Start to use. Now, you can enjoy a cooler environment in summer thanks to it.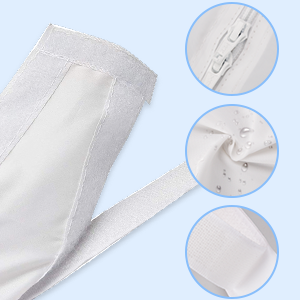 Water Resistant & UV Resistant:
The window seal is made of 190T polyester and PU coating fabric, water resistant and UV resistant. Also with YKK dual anti-skid zippers and premium hook and loop tape, more considerate design for your good user experience.
Package Contents:
1 x 300CM Window Seal Cloth
1 x Roll of Adhesive Hook Tape (650cm)
1 x User Manual
Specification:
Window Seal Length: 300cm/118.11inch
Window Seal Material: 190T polyester +
PU coating fabric
Color: white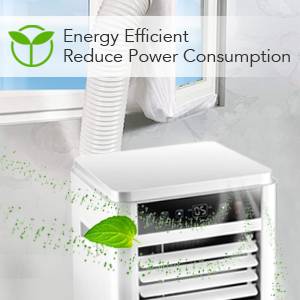 Save Energy & Money:
This seal prevents warm air given out from your air conditioner hose coming back into room. Reduce energy consumption and lower carbon dioxide emissions. Save your electric bills under efficient cooling enjoyment and love the earth.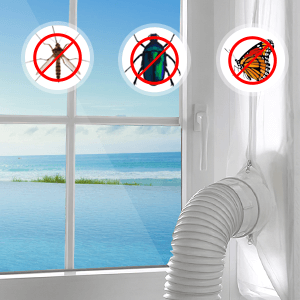 No More Insects:
Tired of disgusting flies and mosquitoes? The window seal also can keep flies, mosquitoes and other unwanted insects outside!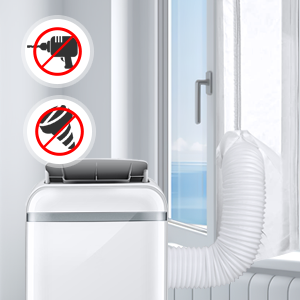 No Damage to Window:
The window seal is pasted around your open window to zip around your hose and block the return flow of warm air. You don't need to drill a hole on window for exhaust hose anymore.