Still worry about how to eke out the last drop of paint from tubes?
Wanna use funny and innovative mixtures of colors to make sketches, portraits, and landscape images come alive?
With AGPTEK 48 colors watercolor paint set, challenge your creative spirit and release your colorful imagination
Enjoy your works and expand your artistic side!
THE FUN OF WATERCOLOR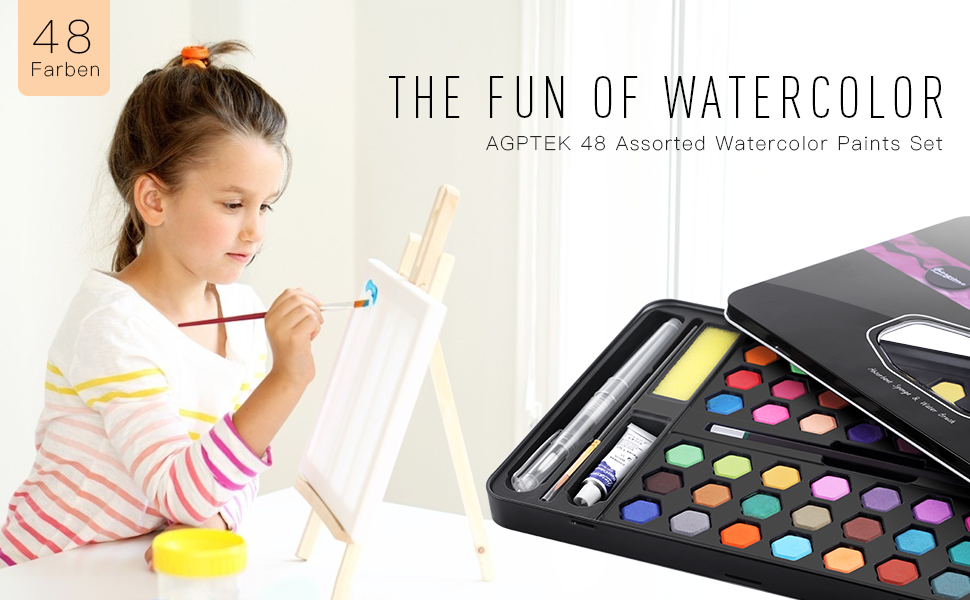 AGPTEK 48 Assorted Watercolor Paints Set
48 Colors solid watercolors are made from richly pigmented materials, resistant to fading and discoloration from direct sunlight
Good stability and light resistance, it is not easy to oxidation so that can be stored for a long time. Rich colors bring you more inspiration.
The color is vibrant and delicate with good transparency
You can achieve a number of crisp, subtle transparency effects by using these paint
Furthermore, you can easily mix these paints together to produce breathtaking colors
Non-toxic and Safety
Ideal for kids, students, artists, beginners
Our Watercolor Paint Set is made from a concentrated dosage of finely ground pigments to achieve artist quality
Non-toxic, good transparency, good diffusion and high saturation, easy to blend colors to create an endless range of colors! Fast drying, there's no chalky or
grainy feel after they are dry